Making Businesses ELITE, One Card at a Time
First impressions are the ones that last. With the ELITE smart cards, you can give your brands that unique voice and look that will set you apart from the race. Impress and amaze your potential clients with this groundbreaking product and make it easier for anyone to be interested and invested in your business.
When you create a digital business card, it would only usually contain your basic information—your name, company, position, social links, and phone numbers. It might include a link or two, directing your contact to your professional social media profiles. But that's about it. If you try to add more information, you risk cluttering your business card and making it less presentable.
With the ELITE smart digital business card, you get:-
Email addresses
Contact numbers
Addresses with map
Websites/Blogs links
Social media links to connect easily
Direct WhatsApp without any hassle
Brochures and leaflets
Lead generation forms to capture every enquiry without human error
Banner slider
Image gallery
Videos gallery
Payment info for straight-up business
Spotlight
Real-time sync with your Google information
Book slots and meetings easily
White-label solutions for authenticity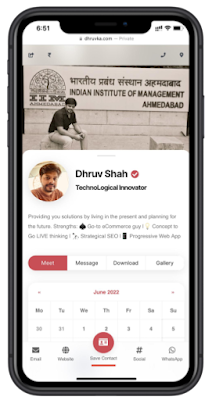 With these key features, the team at ELITE has developed a digital business card that has raised the roof in the digital business card's ecosystem. A product of the generation, as dubbed by those who have been using this efficient new model. The market regresses to old and stale means and calls them smart solutions, but ELITE business cards have paved a new, smarter path that has left the entire race in splits.
With all these advantages, it's high time you get a digital business card. It's easy to create, and you can make unique designs that will reflect your business and personality. With digital cards, your creativity isn't limited by the physical realm.
It's time you create an iconic impression on the world. It's time we leave the physical realm and take our businesses to the realm of technology.